If I Had A Dime…
I cannot tell you how often a seller has said  me "just tell them (buyers) to make an offer".  Translation is yes, I have overpriced my home, but I will take a low ball offer. Unfortunately, as Al Filippone explains in his post below, to overprice your home and then hope to engage your buyer is never a good strategy.  Odds are "your buyer" will never even see your home. Read on…
Our last blog post included some of the reasons that home sellers do themselves a disservice by pricing their home too high from the onset.  Today we answer a question that is asked by many who are puzzled by the fact that their home hasn't received even a "low ball" offer.  "Why hasn't someone at least made an offer?" the listing agent will often hear from a frustrated seller.
The graphic below, from real estate educator David Knox, will be our focal point for the purpose of helping sellers understand the answer to this question.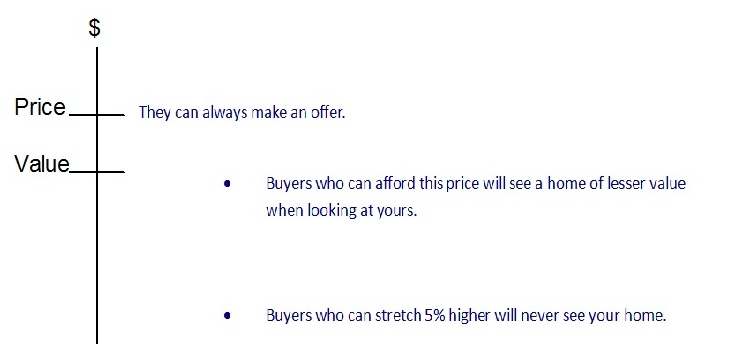 The National Association of Realtors has determined that most buyers will eventually spend in the area of 5% more than what they initiallly plan on spending.  They begin by looking in a certain price range, don't find what they want and then bump their price upwards.  (The same is true when purchasing a car, clothing and I suppose that's not all.)
The consequence of pricing a home too far above market value is illustrated above.  The buyer who views this home will be comparing it to homes of greater value.  Those who will eventually spend 5% more than where they are looking, even if they don't know it yet, will typically not see a home that is priced dramatically higher than the buyer's initial price range.  At times even if it's simply 15% or more.
Thus, when a seller complains that, "The wrong buyers are seeing my home!", they're right.  Not, however, the wrong profile of buyer which is what they think.   In actuality, it's the wrong buyer in the sense that the home needs to be viewed by someone who will meet the homeowner's price.  That's the benefit of pricing a home right at or just slightly above what appears to be market value based on all the data – to capture that buyer who will eventually spend 5% more.
More Drawbacks
In addition to attracting the wrong buyers, the wrong price has other drawbacks:
The home will likely not appear on the buyers radar if it's much higher than the 5% differential.
The home may serve as a catalyst to sell other homes that offer more value.