Over-pricing Your Home is Never a Good Idea
Al Filippone writes another blog post using real estate educator David Knox's graph on pricing. Although Al writes his blog primarily for those in the industry, sellers and buyers can glean insight into the the real estate world too.
 
You've just signed a listing and the initial elation is already subsiding somewhat.  As unusual as it sounds, the homeowners actually think that their home is worth more than you do.  They were adamant about going with their "gut" feeling about the "special" features of their home and pricing it accordingly.  As you continue to consider the pluses and minuses of the offering, you're betting that the home is probably going to take a long time to sell – at least at this price.
The Sell
It can be very difficult to help a homeowner understand that their home is not worth what they think.  At times, all the competitives and comparables in the world are not enough to convince them.  A graphic or two from real estate educator David Knox may be just what you need in helping them see the light.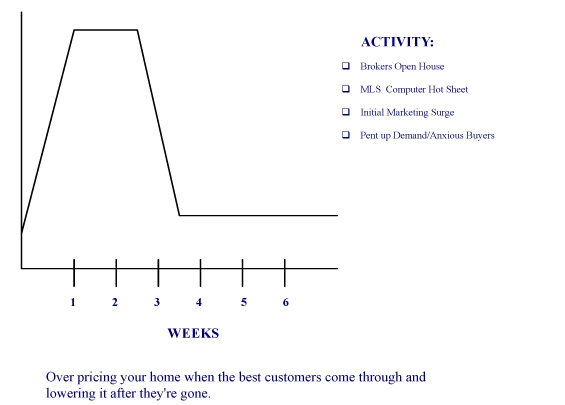 The Consequences
If you're an experienced Realtor, you no doubt have heard a homeowner proclaim, "Well we can't go up but we can always come down."  While this may be somewhat true, the above graphic shows the down side to such an approach.  If you allow that mindset to be the homeowner's driving force in pricing their home, the consequences can be catastrophic.  Realtors know that the best buyers tend to view the home when it is first on the market.  Less motivated buyers, those with frozen equity or those who are looking for a "deal", tend to come through after it has lingered on the market.  The consequences are:
Languish on the market for months.
Adjust the price to even lower than where it should have initially been priced.
Sell for less than where it would have if priced properly from the beginning.
For another post by Al on a real estate no-no go here